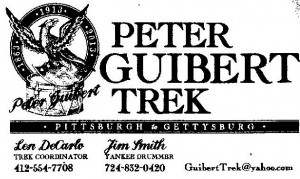 No. 3                                                                                                                                                 May 26, 2013
Yankee Drummer begins Pittsburgh-Gettysburg trek
PITTSBURGH – Yankee Drummer Jim Smith of Greensburg and Ray Zimmerman of Acme stepped off from West Park this morning marching to Gettysburg for the anniversary of the historic battle. He follows in the footsteps of Peter Guibert of Pittsburgh who made the trek from Pittsburgh to Gettysburg for the 50th anniversary in 1913.
Guibert, at age 70, left the then Allegheny City Hall on the Northside on May 26, 1913 at 9 a.m. He was accompanied by a friend and fellow Northsider, John Conroy. They arrived in Gettysburg 19 days later on Friday, June 13. Guibert performed for audiences, especially youngsters, along the route.
Smith, also 70, accompanied by Zimmerman in the role of John Conroy, stepped off from West Park this morning, 100 years to the day from when Guibert began his march.  The West Park step-off event was coordinated by the Northside Leadership Conference.
Smith also plans to duplicate the "educational entertainments."  They will appear at Memorial Day activities at Soldiers and Sailors Hall in Oakland on Monday, May 27. Also scheduled so far are events at Schellsburg, Bedford, Everett, Chambersburg, Cashtown and Gettysburg.
Smith acquired Guibert's brass-shelled Civil War snare drum in 1982. Later meetings with family members revealed that Guibert and Smith were born 100 years and a few days apart and shared a love of drumming.
Smith has founded and performed with fife and drum corps in several states and in Japan during the Bicentennial Celebration in 1976.
Guibert, after serving as a drummer boy in the Union Army at Gettysburg and other campaigns, was a well-known entertainer. In addition to the drum, he played other instruments such as the fife, harmonica, and slide whistle.
With those things in common, Guibert family members and friends in Gettysburg who are Civil War buffs encouraged him to duplicate the trek. Smith accepted the challenge the trek is now under way.
"If you see us along the route, give us a wave. Stop at one of our entertainments, if you can,"   said Smith.
They will cross the Rachael Carson Bridge on Ninth Street and follow Forbes Avenue through Oakland. The march continues through Wilkinsburg to Route 130 and on to Route 30 in Greensburg. From Greensburg to Gettysburg, the men will generally follow the Lincoln Highway.
After defraying the costs of the trip, funds raised will be used to erect a memorial to military musicians. Until modern communications replaced them, drums, fifes and bugles played an essential role in directing troops in battle and camp duties. A location for the monument has not yet been decided.
Preceding the trek, a ceremony at Peter Guibert's grave in Highwood Cemetery on Brighton Road, Pittsburgh was held Friday, May 24.
—–