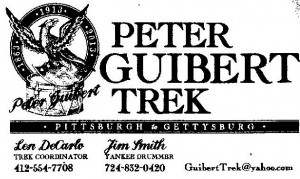 …..Marching to a different drummer
Peter Guibert turned 70 on Jan. 4, 1913 and, as the 50th Anniversary of battle of Gettysburg approached, he began making plans to attend the reunion of opposing forces at Gettysburg that July. During the Civil War, Guibert was a drummer boy with the 74th Pennsylvania Regiment at Gettysburg and, later, with the 77th Pennsylvania Volunteers. He saw action at Gettysburg and many other engagements.
The railroad linking Pittsburgh, where Guibert lived on the Northside, and Gettysburg offered free transportation for veterans traveling to the event. Guibert, however, decided to walk.
Accompanied by a friend and fellow Northsider, John Conroy, Guibert stepped off from the then Allegheny City Hall on Monday, May 26, 1913 at 9 a.m. City Hall was located at what is now West Park.
The Chambersburg newspaper reported that Guibert "stopped to entertain school children and citizens in the square on Sunday, June 8." On Thursday, June 12, Guibert and Conroy stayed overnight at the Cashtown Inn just outside Gettysburg. The following morning, June 13, they arrived at the edge of Gettysburg where they were "… picked up by the Bell Telephone wagon…" for a lift into town.
According to The Adams County News in Gettysburg on June 14, 1913, "The men show plainly the results of their exposure to the summer's sun but apparently have suffered no ill effects from their long journey."
The Gettysburg Times reported that Guibert and Conroy arrived in Gettysburg at noon on Friday, June 13 and played a free concert. They stayed at the City Hotel, now the James Gettys Hotel, until after the battle anniversary.
Billed as "Wizard of the Drums" and "Master of Military Martial Music," Guibert spent the next three weeks as featured artist at the Walter's Theater where he was the opening act for the 1913 silent epic, "The Battle of Gettysburg."
Guibert died on December 7, 1933 at age 89. The drum languished in attics for decades. Niece Betty Mower of Delmont remembers that she and her sisters were allowed to play in the attic at Uncle Otto Guibert's home but were admonished "…not to touch Grandpa Peter's army drum."
Upon Otto's death, the brass-shelled Civil War drum passed through the family to Betty, who "adopted" it rather than risk its being discarded. Mower had the drum put away until March of 1982 when she read an article about Yankee Drummer Jim Smith in the Home and Hobby section of The Greensburg Tribune-Review.
The article described Jim's entry into drumming as a youngster growing up in Palmyra, NY. It also told about his starting fife & drum corps in his hometown, while attending Purdue University and during his Navy service. It also mentioned his work restoring old rope-tensioned drums. The Guibert drum had a broken head and a single drum stick rolled around inside. It was a prime candidate for Jim's attention.
Jim bought the drum, setting in motion a remarkable series of events seasoned with a touch of irony.
"My commitment to repeating the trek began during a visit with Peter's grandson, Clarence Guibert and his wife, Nancy of Mars, sometime later," Jim said. "During the visit, they expressed concern that Peter's name was not included in the official Pennsylvania records in Gettysburg. I later found his name – misspelled — and the error has since been corrected with an annotation to the list."
Years later, at an open house at the Horse Soldier antique store in Gettysburg, discussion focused on the 150th anniversary two years away. Jim mentioned the drum he acquired and Peter's 1913 march. Jim also noted that he was born a little more than a month and 100 years after Peter.
Peter was 70 years old for the 1913 march. Jim is 70 years old for the 2013 anniversary. After some gentle prodding from others, the idea took root.
No records have been found of the route Guibert and Conroy took; however, newspaper accounts place them in Chambersburg and Cashtown, both on the Lincoln Highway. The Lincoln Highway was not formally designated until later in 1913 but the roads it comprised in Pennsylvania existed at the time of the 1913 trek. The route also generally followed the historic Forbes Road, a major east-west pathway dating from colonial times. So we chose the Lincoln Highway and will follow it as best we can.
We also accepted another hypothesis. Over hills and along valleys for nearly 200 miles, Guibert and Conroy lugged not only the snare drum, not an onerous burden of itself, but also a bass drum, fife and various other musical instruments. As a result, we speculate that the men either had a cart of some sort or accepted an occasional wagon ride from a passing resident. Sweet relief for tired feet and an aching back.
With this in mind, we decided that "Professor Guibert" and his trusty companion in 2013 may hop a wagon for short lifts along stretches of highway where their safety is at risk.
Guibert also was committed to doing educational programs and "entertainments" along the way. The 2013 reprise views instilling young and old with a knowledge and appreciation for the nation's history as a major objective. As a result, scheduled events have made it necessary to interrupt the trek and jump on the wagon (actually a minivan or truck) and go backward or forward for a performance. Afterward, we'll jump on the wagon and pick up the march where we left off. So, if you see us motoring by, just wave.
That summarizes events that brought us to where we are today. If you see us along the way, feel free to talk with us. We plan to travel the nearly 200 miles in 18 days but we expect to smell the roses, so to speak, and talk with as many spectators as possible.
The ultimate objective is to erect a monument honoring military musicians. None yet exists but we believe it should. "The Music," as those soldiers were known, played an integral part not only in directing troops in battle but also in mundane activities of camp life such as waking up in the morning and lights out at night. Any donations received will be used to defray costs of the trek and the rest will fund the memorial.
—–